Web Design Process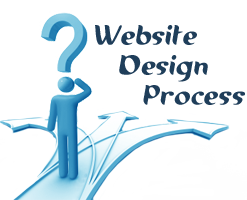 The first step of Webapplify's website design process is the style or "look" of the website. We will discuss with the client general ideas and specific tastes on overall colors, textures, and any graphical needs.
Once the style or "look" of the website is determined, the next task is navigation or the menu structure of the website.
Once the navigation or menu structure is determined, the next step is the "fill in" all the pages with the client's text, pictures, and information. If help with text or pictures is needed we also provide those services for an additional fee.
The last step is changing and editing text and pictures. When final approval is given by the client, the website is uploaded and posted to their registered domain and website host.
The client provides all pictures, text, logos, and other digital media unless otherwise agreed upon in a separate contract. If logos or graphics are needed Webapplify provides graphic design services to all website clients for an additional fee. Style is usually the most creative part of the website design process and we work closely with the client to make sure style fit their needs and wants.
We provide a Live Demo Server for all our clients to view their website being created in "real time". Any changes made to the website are immediately available for the client to view. The demo server is available 24 hours a day, every day of the week. Clients are also be provided a folder to upload images, text or any website content to our server. This is to make the website process the most efficient way for the client and Webapplify. It is not be necessary for the client to meet with Webapplify in person to exchange content and other items, it is the client's choice, we try to make the process as easy as possible for our clients.
Webapplify submits all new sites to all the major search engines. Search Engines normally require two to four weeks to find and have their "spiders" crawl a newly launched website. A newly launched site will not show up immediately in search engine results, but in a few weeks the website will start showing up on Google and other popular search engines, depending on how many keywords are used in the content and other SEO factors that will be discussed throughout the website design process.
Domain name registration is a crucial part of designing a website. If you have already checked and the domain name you would like is available, we recommend registering the domain as soon as possible. If your ideal domain name is not available, we can offer suggestions to help you figure out the best domain name for your website. Web Hosting is also crucial to a website, Webapplify provides high quality web hosting service with live support 24 hours a day seven days a week.